- newsletter archive | 2019-05-27 -
hi! welcome to lenny and friend's nice email newsletter once again. in this fifth edition you will find a recipe for vegetable casserole with cheesy breadcrumbs, a song recommendation and a game recommendation.
--
vegetable casserole(serves 6)
olive oil
1 leek, thinly sliced
6 - 8 cloves of garlic, minced
1 kg of washed potatoes, cut into bite size pieces
500g bag of frozen broccoli florets
1 bunch of asparagus, cut into bite size pieces
powdered vegetable stock
black pepper
200ml of creme fraiche or light sour cream
for the breadcrumbs
4 - 6 slices of bread, lightly toasted and blended into rough crumbs (or just use about a cup of shop bought breadcrumbs)
1/2 a cup of grated cheese
pepper, onion powder and garlic powder, to season
heat about two tablespoons of oil in a large, heavy bottomed pan over medium high heat. add the leek and garlic and cook for 5 - 10 minutes or until softened
add the potatoes and broccoli, then add water to just below the height of the vegetables
bring to a boil, then reduce to medium low heat. season with vegetable stock and pepper, add the asparagus then cover and let simmer until the potatoes are just tender
in the meantime, mix the breadcrumb ingredients together until well combined, and grease a large casserole dish
once the potatoes are tender, turn off the heat and add the creme fraiche. stir well to mix it through the vegetables, then pour the mix into the casserole dish. top with the breadcrumb mix
put the casserole dish under a medium grill for about ten minutes, or until the top has browned and the cheese has started to melt
--
i wasn't going to have a music recommendation in this month's newsletter, but this song came up in my soundcloud feed as i was writing and i thought it would be perfect to include. it's so relaxed while still being cheery and upbeat.
soundcloud.com/imjetty/robot
--
the game i want to recommend this month is a mobile game called pancake tower. it's fairly self explanatory - you have to stack a tower of freshly cooked pancakes as high as you can. i'm pretty sure it's available on both android and ios (sorry if i'm wrong!)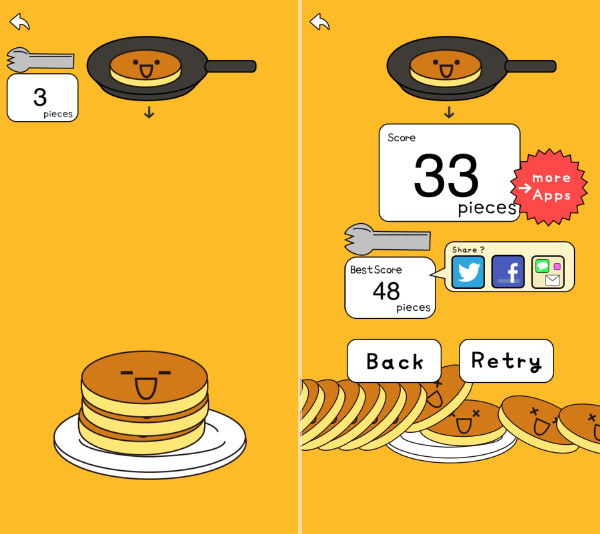 --
and that's all i have for you this month, dear reader. as always, thank you for your interest and please don't hesitate to get in touch with any questions or feedback. can you beat my high score in pancake tower?
love,
lenny
---